"Podcast advertising remains a bright spot of growth within digital radio. Spending on all types of podcast ads, including host-read sponsorships, will rise by 10.4% this year to more than $780 million," reports eMarketer.
"Next year, podcast ad spending will surpass $1 billion in the US for the first time as growth rebounds to 44.9%. That will boost podcast advertising to almost one-quarter of the digital radio ad market."
$1 billion worth of digital radio ads
Although digital radio spending overall has seen a decline during the pandemic, in line with reduced advertiser demand, eMarketer expects growth to rebound by 26.8% next year.
The report also says that while only a small share of digital radio advertising is traded programmatically, that share will increase to 16.5% this year. By 2022, more than $1 billion worth of digital radio ads will be traded through automated means.
Automated podcast ad buys
Within podcast advertising specifically, the spending that flows through programmatic pipes is tiny—just 4.0% this year.
"Podcasts still tend to be downloaded rather than streamed, and most ads are still baked into conversation rather than dynamically inserted," says eMarketer Principal Analyst Nicole Perrin.
"But that's starting to change, and companies like Spotify are working to bring scale and reach to targeted, automated podcast ad buys."
"The YouTube of audio content"
Companies like Spotify and Google are definitely seeing potential in the podcast market, as indicated by their recent moves.
Spotify has started to ramp up podcast deals with influencers, and the company keeps adding to its exclusive podcast arsenal.
Spotify also recently launched a new storytelling podcast feature that will attract kids to the music-streaming app.
"It appears Spotify is trying to become the YouTube of audio content," comments 9to5Mac's Bradley Chambers.
"Podcasting is blowing up"
Google, on the other hand, sees promise in the confluence of news and podcasts.
Podcasting is more popular than ever, and news is the fastest-growing category in podcasts.

Liz Gannes, Product Manager for Google News
Last fall, the company launched a smart audio news playlist—Your News Update—on Google Assistant. Now, Your News Update is coming to Google Podcasts to make it easier for podcast users "to easily discover and listen to the news that's especially timely and relevant to them."
The feature leverages machine learning techniques to understand the news content and how it relates to the listener's own likes and interests—crafting new, intelligent audio news experiences that deliver local stories and more personalized content.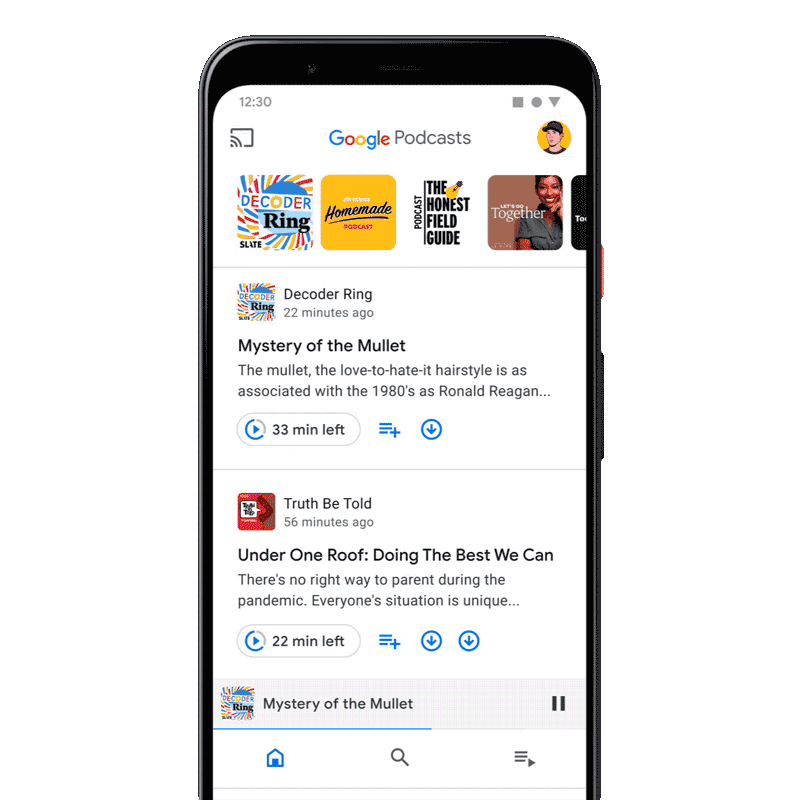 "Think of it as our version of a newscaster," the company writes in its official blog. "With this new technology, we can convert a wealth of content to audio for listeners while giving it a human touch."
"We want to expand what podcasting is to include more newsy content that you have to work less hard to find," says Liz Gannes, Product Manager for Google News.
"People want to listen where it's convenient to them. That's why podcasting is blowing up."