The case study today is a successful plain text newsletter that shuns pictures, graphics and emojis.
Yet this 22-year-old weekly has 300,000 free subscribers, and advertisers queueing up for the high-performing text slots.
It's a simple model that offers food for thought for publishers.

STATUS: Weekly, Thursdays
NEWSLETTER TYPE: Consumer
PURPOSE: Engagement through celebrity gossip, satire and cruel humour.
LAUNCHED: 2000
SUBSCRIBERS: 300,000
WORD COUNT: 1,601
SENT FROM: server@popbitch.com, no personalisation.
SUBJECT LINE: Legendary Love Cannon, just one story picked.
Design
It's a minimalist hand-crafted look, with even the logo created from typewriter-style dashes and brackets.
Text is either plain or bold, there are no pictures, emojis, and page architecture is created from dashes, chevrons, and black rules.
Headlines are tight, short, centred and inside double chevrons. Some stories are as brief as one or two sentences. The longest is 140 words in 4 paragraphs.
Overall, this gives the content a sense of urgency, making it look like the words have been bashed out on a typewriter and pasted in just in time for the deadline.
Editorial
Popbitch publishes edgy, irreverent and chancy celebrity gossip, sort of a cross between Private Eye and a disrespectful Hello.
Stories are sourced from freelancers, websites and tip-offs from readers. The newsletter has the shorter stuff. (Longer articles are on the website.)
The newsletter starts with:
➕ An advert. Written in the Popbitch style as a kind of native promotion but obviously an advert.
➕ A quote from a celebrity
➕ An invitation to subscribe
➕ An invitation to supply stories
➕ 3 bullet points about the main stories
Then there's the meat. The subject matter of the main stories:
➕ Former footballer Michael Owen and a former Big Brother contestant's racy text exchange update
➕ Latest on politician Matt Hancock, DJ Chris Moyles, TV celeb Olivia Attwood and their appearance on I'm a Celebrity Get Me Out of Here
➕ TV host rapper and comedian Nick Cannon and his 12 children
➕ Comedian Peter Kay's carefulness with money
➕ Film director's Quentin Tarantino sexual encounter
➕ Politician Jacob Rees-Mogg's bathtime habits
There are additional items between the stories as follows:
➕ Free tickets for a West End show for readers
➕ Promotion for the Popbitch subscription offer
➕ Cross-promotion for Upshot sports gossip newsletter
➕ Hmmms. 10 one line introductions and links to other gossip on the web.
➕ Acknowledgment of readers who've provided stories
➕ An "old joke"
➕ A link to a long read about the fall of Yeezy in Rolling Stone magazine, if you are "Still Bored"
➕ A link to the new John Wick film trailer on YouTube.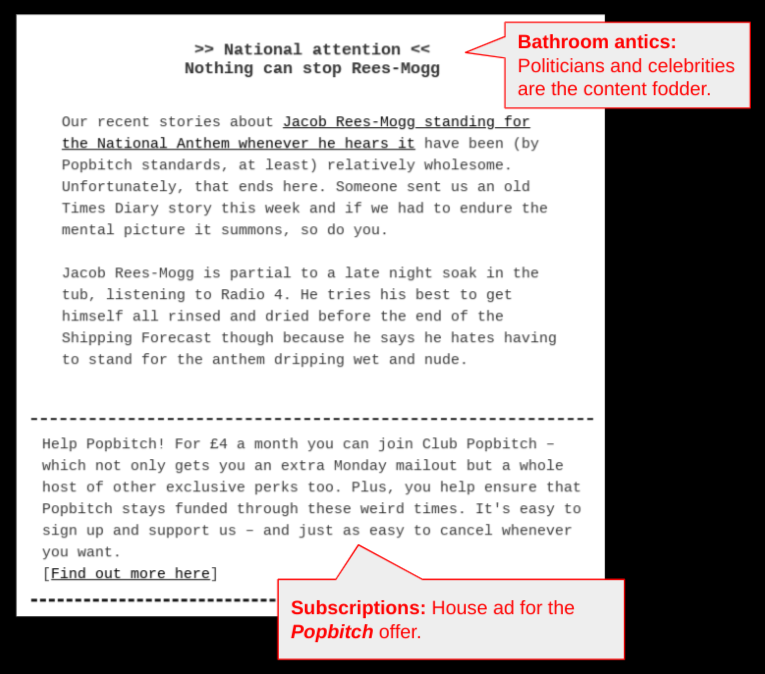 Business model
The business model has changed over the years, and the commitment to the easy-read plain text format seems to have played a part in dictating the way revenue is now generated.
There's a mixture of native newsletter advertising and subscriptions and, on the website, pay-per view. Advertising appears to be by far the dominant income.
Ventures including radio and print have been explored and experimented with over the years but little seems to have come of them commercially.
It's worth noting that with gossip and tips often coming from readers and freelancers, this is a low cost editorial model. Once overheads are covered, profit margins should be attractive.
The main revenue sources are analysed below.
Advertising
A text advert for a sex toy website written in the newsletter's style is the first thing you see in this edition (see above).
In the newsletter being reviewed it seems to be the only paid advert (other than house ads for subscriptions and a contra deal for a complementary newsletter).
Other editions have carried ads for a home insurance app, luxury brands, a BBC podcast and a recruitment agency. The advertising slot at the top seems to be filled by external advertisers in most issues.
The ads are usually written with the advertiser being referred to as the third party in the native advertising format.
This is Popbitch selling the benefits of the product in its own voice, providing in effect an editorial endorsement of the product. There's no statement making it clear that this is advertising, but to be honest, it's pretty obvious.
Estimating advertising revenue can only be by rule of thumb given the number of variables, so the following must be seen in that light.
Assuming a reasonably high open rate of up to 40% and a cost per thousand (CPM) in the consumer range of £10 to £30, we can venture that each prominent slot might be charged out at £3,000 to £9,000.
That implies annual newsletter ad revenue between £150,000 and £450,000 a year. Which end of the range is the reality depends on the click-through and sales conversion rates achieved by advertisers.
In the early days, there was banner advertising on the website and in the newsletter, but it didn't please the readers.
Here's what Popbitch has to say on the subject:
"Readers didn't just dislike the intrusive adverts. They hated them. Absolutely hated how most of the sites they liked or relied on were becoming unreadable.
"Hated how content was designed to generate clicks through cheap headlines.
"Hated how hard to load our site, and others, had become. Hated the autoplay videos everywhere. Basically, users were starting to hate the internet."
With that position adopted fairly firmly, it was perhaps a logical step that the website has moved to pay-per-view for its long-read articles (see below.)
Subscriptions
Club Popbitch membership offers additional newsletters and virtual benefits for 2 classes of paying subscribers asking £4 a month and £10 a month. The offer is promoted on the website and in the newsletter.
Pay per view
Website articles, which tend to be investigative and go deeper into celebrity naughtiness, are 25p each, but the most you can spend in a week is 50p. After reading 2, every other article is free for that week. You keep the active with a minimum £3 from your card.
This is a new initiative and appears somewhat experimental.
Marketing
The Popbitch people rarely do interviews and requests for information did not yield a response, so details on the list growth strategy are scant. The list appears to have been built through word of mouth and the sign-up page on the website.
Comment
Newsletters styled like this are easy to create and consume.
Given the increasing importance of reader engagement it's perhaps surprising that there aren't more publishers doing it.
Of course, many are stuck in the doom loop of dependency on programmatic ads, requiring more and more eyeballs, leading to editorial judgments that negate true reader engagement, and newsletters with a teaser function to get a click. But that's another story.
With text and white space as the bare carrying media, in Popbitch attention is focused solely on the words, the stories and their meaning. No distractions, full stop.
Not that newsletters should be denuded of every photo, illustration and emoji, but these adornments need to be used sparingly. Having said that, it's an audience-specific decision and text-only obviously won't always work.
No review is a substitute for reading Popbitch to understand the satire, the unashamed bitchiness and cruel humour that has made it something of a cult among early followers.
The business side may look underdeveloped, but the editorial success, impressive list, and solid newsletter business performance have all contributed to this brand's longevity.
---
Read the full issue and subscribe to Popbitch here.
Andy Griffiths
Champion Newsletters
Andy Griffiths is the founder and publisher of Champion Newsletters, which highlights best practice newsletter case studies and strategies. Sign-up free at andygriffiths.co.uk