Quartz, the 'global economy brand' is moving back into podcasts a few years after tinkering around the edges of the medium.
The new weekly podcast will be based around Quartz's popular Obsession email newsletter which is described as 'an interactive email for curious minds, with forgotten histories, surprising facts, and vital stats'. Based on the email newsletter, the Obsession Podcast will 'deep dive' into ideas crucial to understanding the future of business in a 'new way'.
The 20-minute episodes will feature an introduction to the object of focus and a conversation between host and executive editor Kira Bindrim and the Quartz journalist who has covered the object. Topics for the first season will include CAPTCHA, rare earths, Japanese whisky, cash, and kudzu among others.
Speaking to WNIP, Katherine Bell, Editor-in-Chief of Quartz, says that it forms part of Quartz's wider strategy to leverage and roll out products that work successfully onto other mediums, "Overall, we're thinking of how certain products that worked in one medium (i.e. newsletter) can work in another medium (podcast), what's the Quartz approach to that, and what will bring the most value to Quartz readers. We're also always focusing on building habits and loyalty – which both email and podcasts do particularly well."
Bell adds, "We know that Quartz's unique perspective on business news resonates with readers. That distinctive voice (warm, skeptical, whimsical) comes through very clearly in audio, just as it does in email. So we're confident that what has made readers love the Obsession email newsletter will translate successfully into audio."
Quartz plans to monetize the podcast through sponsorships as well as driving new audiences to Quartz with a call to action to sign up for the publishers' newsletters such as the aforementioned Weekly Obsession and Daily Brief. It will also promote the Quartz membership via the podcast, including bonus episodes for members.
Bell told WNIP that the publisher doesn't have any specific plans to expand other newsletters into podcasts, but it's "something Quartz is keeping a close eye on" as the publisher develops new features and products.
We see this project as the foundation for more growth in audio in the future, so we're setting it up to make sure we learn as much as possible.

Katherine Bell, Editor-in-Chief, Quartz
The Obsession podcast will launch on October 12th, 2021, and can be found on https://qz.com/se/quartz-obsession-podcast/, Apple Podcasts, Spotify, and all other major podcast platforms.
It comes at a time when podcasts continue to gain strong momentum, both in terms of audience growth and sheer volume. According to Podcast Insights, there are now over two million individual podcast shows worldwide, driven by a sharp increase in smartphone usage.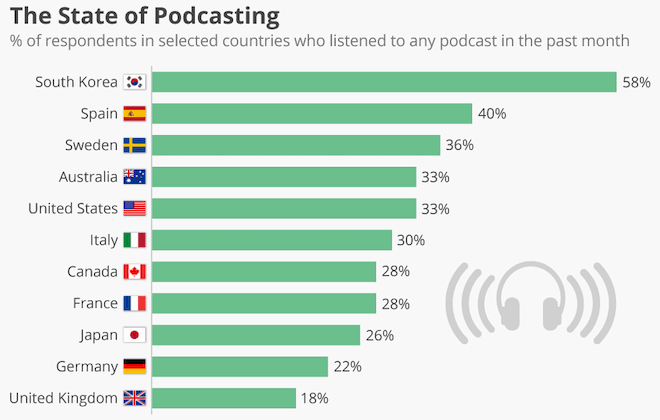 A new UK study from DAX, the digital ad exchange specializing in audio, also shows that podcasts are increasingly attractive for advertisers with 55% of respondents already including podcast advertising as a core part of their media strategy and almost two-thirds (64%) investing more in podcasts over the last 12 months. As a result, digital audio advertising revenue in the UK has grown 16% in 2020 to £104million.
It's great to see brands recognise the resilience of audio as a channel in its own right and how it can be used to make lasting connections with consumers in a variety of contexts. It means they can deliver ads that resonate while projecting a clear and consistent brand message at a variety of times throughout a consumer's day, putting them in the strongest position to drive the engagement they need.

Katie Bowden, Director of Commercial – Audio at Global (owner of DAX)