There's a lot of uncertainty out there, but there's one thing that we know for a fact: Traffic to publisher sites is at unprecedented levels right now. The thing is – this won't last. We're already starting to see a (slight) drop.
Which brings me to this question: What are publishers supposed to do with this abundance of users? That's what I want to dig into this week.
Traffic and Retention
First, let's talk numbers. Early March saw a traffic peak for most publishers – this was made up of people seeking out COVID content, but not exclusively so. Here's a breakdown of traffic:
Above, you can see the steady rise of traffic overall, and how it compares to COVID traffic. There was a clear peak on early-mid March. If you look closely enough at the traffic after the peak, you can see that it's now in the midst of a slow decline. As people are settling into new routines, their content consumption seems to be decreasing, and interest in COVID is starting to wane.
During the height of the crisis, there was also a larger percentage of new users:
March was definitely an inflection point in terms of new users. Though we're still in the middle of April, it looks like there will be a dip in overall traffic and the percentage of new users this month, though the numbers will still look better in April than they did in February. So the first conclusion here is that we're past the traffic peak. That means that for publishers to build on the traffic spike, there's no time better than the present to take action.
The next big question that comes to mind is whether these users are fly-by-night or whether they're here to stay. This is where things get interesting. Users who came in at the height of the crisis have stuck around more often than users who came in before or after it.
Another interesting tidbit: If you look at the top of the chart, you'll also see that the crisis brought back users who had been gone for a while.
The lesson here? In times of crisis, people turn to sources they trust and become more loyal to those sources.
Given all of this, the conclusion I keep returning to is that publishers should be making an effort to keep the users they're meeting in the wake of the crisis. At the end of the day, we're in this for the long haul, so the more users publishers can keep around, the better.
Retaining COVID Readers
We wanted to look at two of Keywee's publishers and examine how COVID has been affecting their numbers. One is a publisher that's mostly focused on audience development, and the other is a publisher that's focused on paid subscriptions.
Publisher 1: Paid Subscriptions
Publisher 1 is an international news publisher doing paid subscription acquisition with Keywee. The publisher uses a metered paywall – i.e. after a user reads a certain number of articles for free, he or she is prompted to subscribe.
This publisher has promoted an equal amount of Corona and Non-Corona related content over the past month. But when it comes to driving paid subscriptions, Corona-related content is the overwhelming winner: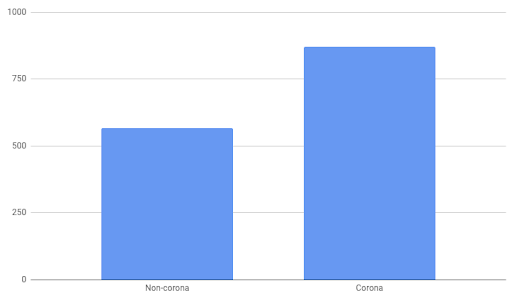 Conversion rates for Corona-related content are slightly lower than non-corona related content, but the volume of subscriptions is so significant it feels like almost an afterthought.
The traffic peak may have passed, but there's still significant interest that can drive concrete business results.
Publisher 2 is also a news publisher, and uses Keywee's Content-to-Capture (C2C) product for newsletter acquisition. This publisher has been running both Corona and Non-Corona content. Over the past month, the conversion rate for Corona content has been higher, while the CPA has been significantly lower than any other content the publisher is promoting. I think the chart below speaks volumes:
But there's more to this story. User loyalty is far higher with Corona content. Keywee has a proprietary metric we use to measure the quality of users acquired through Audience campaigns – Loyalty Score. The highest-loyalty Corona article has a Loyalty Score that is over 10x its nearest Non-Corona rival. In other words, users are returning to the publisher site ten times more often if their first interaction was with Corona-related content, compared to anything else.
So What's a Publisher to Do?
Ride the wave. Don't be afraid to promote more Corona-related content. Put a call-to-action at the bottom of your articles. Increase your acquisition budget while prices are low and drive volume.
As everybody confronts this new reality, they're seeking out reliable sources. They're showing loyalty. There is absolutely nothing wrong with making the most of this moment. 
Think about it this way – a month or two from now, I'll hopefully be telling you about how things have started to normalize and interest in COVID is down significantly. Boy, do I hope to be telling you that story sooner rather than later. But until that time comes, publishers need to make the most of the given situation, and that's ok.
Inbar Yagur, Keywee