An ever-present theme at Cannes was the problem of talent and recruitment, although the phrase 'burnt out' carried a more pressing threat with temperatures so high that even outdoor events are banned in parts of France.
As industry leaders gather at Cannes, a workplace revolution is underway. I wrote about how the balance of power is shifting from the employer to the employee, and what's really behind the so-called 'talent crisis' https://bit.ly/3xStFlP.

Brittaney Kiefer, Europe Creative Editor, Adweek
The theme of protecting talent comes on the back of Lucy Keung speaking at the recent FIPP World Media Congress where she urged publishers to nurture staff far better than they might do, "otherwise they'll simply leave".
The theme was highlighted by Cannes LIONS themselves in their State of Creativity Report 2022, released during Cannes, where they remarked, "Over half of brands and agencies said securing talent, skills and capabilities was the most challenging aspect of transformational creativity to deliver".
The Great Resignation is forcing businesses to double down on how they inspire and nurture creative talent – and this is particularly true for an industry that depends on its people and their ideas. You collectively call for the industry to invest more time in developing talent, be more flexible with working methods, and prioritise mental health."

Cannes LIONS, State of Creativity Report 2022
Josy Paul, Chairman and Chief Creative Officer, BBDO India, added, "As an industry, we are witnessing a significant churn. People are asking themselves why are we doing this, where's this going. The great resignation is real for us. They are speaking to their bosses about their mental health and the need for flexible hours."
Cultivating a culture of inclusion and belonging in the workspace
This theme was picked up at Amazon Port where we listened to a panel entitled, "Cultivating a culture of inclusion and belonging in the workspace" featuring amongst others Jade Chan, Global ID&E Marketing Program Manager, AWS, and Shyla Martinez, ID&E Global Community Activation Leader, AWS.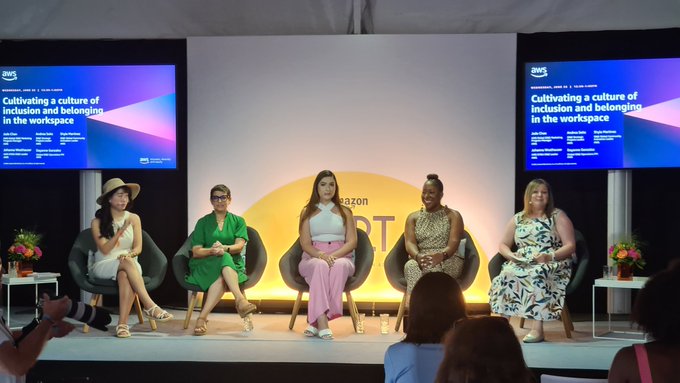 The commitment, dedication and sheer scale of the resource Amazon is allocating to DEI can only be applauded, with AWS' Shyla Martinez advising the audience to "lean into your communities if you can't get the answer – reach out, ask them, but never assume".
The chief critique we have with Amazon's approach, like so many of its corporate peers, is that its approach to DEI is set within a framework that is itself beholden to woke 'group think'. In short, whilst the company is committed to DEI, heaven forbid if you hold political or socio-economic affiliations that don't fit within their 'position statement'. As a publisher told us at last week's FIPP Congress, "if you're not inclusive to all, you're not inclusive."
It is, like so much at Cannes LIONS, the elephant in the room.
New York Times doubles down on subscriptions
Our next stop was the Axios/Zefr yacht where Axios' Sara Fischer kicked off interviews with both The New York Times Company President and CEO, Meredith Kopit Levien, and TelevisaUnivision President of U.S. Advertising Sales and Marketing, Donna Speciale.
We'll be covering Kopit Levien's talk in greater detail as there was so much to unpack, but one key point stood out: the New York Times still sees a lot of growth ahead in subscriptions. Kopit Levien disclosed NYT's own research had shown its potential subscription market to be 125 million potential subscribers.
Our potential subscriptions market is 125 million subscribers. Clearly we're not going to achieve that, competition is high, but it shows there is room for plenty of subscriptions growth. Our new ambition is 15 million paid subscribers by 2027.

Meredith Kopit Levien, President and CEO, New York Times
Kopit Levien also hinted that the New York Times "might" invest in foreign language editions to broaden its reach as well as face-off competition from other global media giants muscling in on the NYT's own territory – indeed, newspaper wars have gone truly global, with this year's English language launch of France's Le Monde a case in point.
Cannes Podcast Round-Up
Finally, we'd like to highlight the latest Media Voices podcast, sponsored by leading publisher technology platform, Sovrn, giving an on-the-ground overview of Cannes LIONS 2022.
It's hard to go around here and see the giant (company) beaches, and Amazon having its own compound, and not conclude that technology is driving the media industry and not vice versa.

Brian Morrissey, The Rebooting, talking to Media Voices at Cannes LIONS 2022
Sovrn is committed to helping independent publishers thrive on the open web. Our goal is to provide the tools, support, and trusted partnership to ensure that diverse content creators who have unique ideas and perspectives have a platform to deliver quality content and the opportunities to attract advertisers seeking highly engaged audiences.

Dom Perkins, Managing Director, Sovrn UK