A registration wall will quickly identify a publisher's most loyal and engaged visitors. These super users are much more likely to convert to long term subscribers.
Interest in registration walls is growing, as publishers lay groundwork that allows a shift from third-party to first-party data, and avoid further pressure on ad revenues. Additionally, publishers needed a counter to leaky paywall and adblock revenue losses.
Recent studies have shown that as much as 75% of paywalls can be circumvented by relatively simple user techniques like cookie clearing and privacy modes. A regwall's ability to help enforce copyright access controls focus on sustainable revenues, first-party data, better user experience, has sparked more interest in the use of registration walls.
What is a registration wall?
A registration wall is a method of online visitor relationship management that asks visitors to establish a free account with a website to have access to content. Sometimes called a regwall or regiwall, it confirms the user identity and can manage permissions by user account, and across devices rather than tied to a single browser. It can be a critical component for overall copyright access control for publishers.
Managed well, it can:
Collect visitor email address along with user behavior and content preferences
Identify your most loyal audience to improve their experience
Prevent visitors using incognito mode to undermine publisher's terms of use
Increase conversion rates on subsequent paid offers or subscriptions
Offer and drive custom experiences, such as ad-lite or ad-free viewing
What does a registration wall look like?
Your audience will experience it as a popup or message bar that appears after they have reached a limit set by the publisher. Typically it is a simple web form, asking for just an email or unique login credentials. Some publishers share more information about how registration can benefit the visitor, and may offer an incentive for registering.

Example registration walls from Gilt, The Drum, The Guardian, NYTimes, and Mediaite:
The Gilt offers 3 signup methods, alongside photos of content to explore.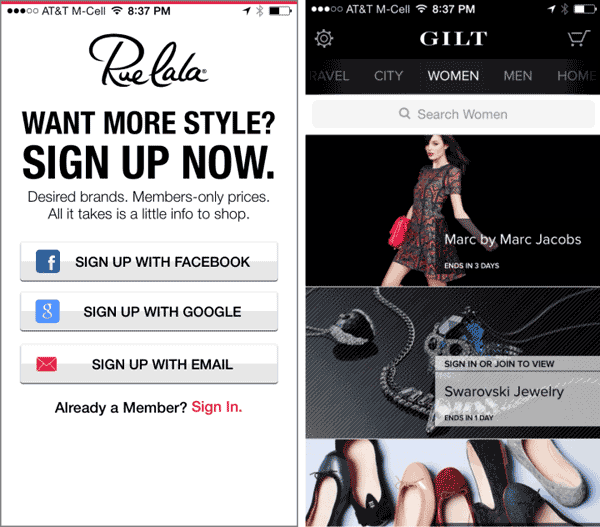 The Drum leads with friendly, inviting language and stressing that registration is free.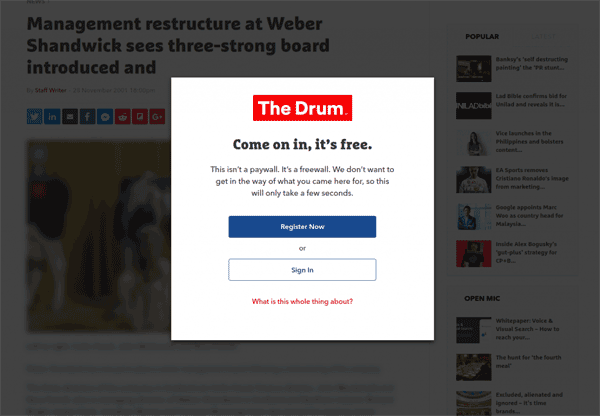 The Guardian gives a brief explanation of the 'why' for readers. Promising an improved experience and providing links to more thorough answers to visitor concerns.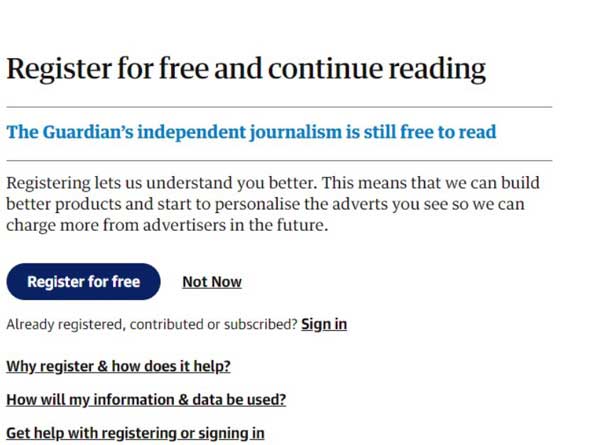 Pinterest sets expectations for how quickly registration is completed, and how much content is available to registered visitors.
Mediaite includes the form field directly, rather than adding visitor clicks to complete registration on another page.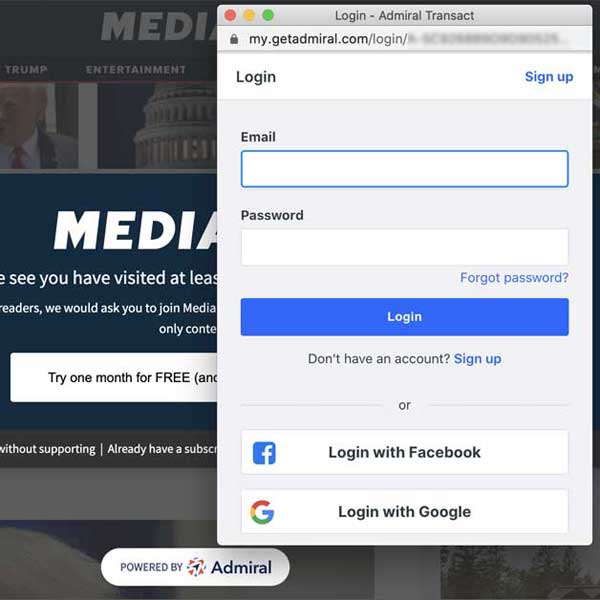 When are registration walls presented to visitors?
The regwall may be triggered by:
First visit. Publishers with well-established brand value may require first time visitors to register before viewing any content.
Time limits (days since last visit)
Scrolling a certain percent down the page.
Viewing a number of articles in a given period (e.g., 5 pages per month)
Geolocation, Useragent, or referrer
Adblocker status
Custom segmentation
After signing up, visitors will gain access to the content designated for registered users only. Login options often include using social sign-on or Google account, and they can automatically keep the user signed in for future visits from the same device.
Example of how NYTimes asks for registration from Home Page first visits, to hard stop CTA. (Image sourced from this INMA.org article.)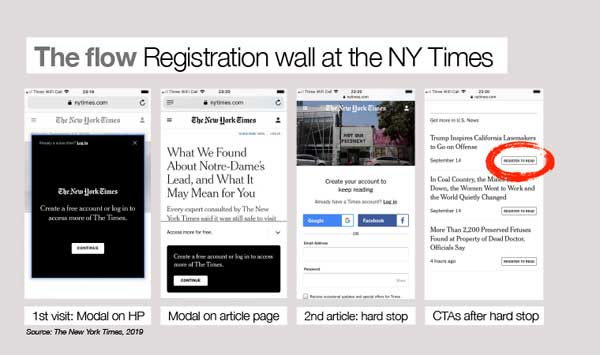 What are the benefits of a registration wall?
Unify visitor data across devices and browsers, mobile and desktop.
Create more engaging experiences based on the first-party data collected
Better engage "Super Users", the 7% of visitors that can drive 50% of traffic
Address leaky paywalls problems, such as using Chrome incognito mode or multiple browsers to get around metered paywalls.
Grow other conversion-rich channels such as email lists and social follows
Convert regwall subscribers into paid subscribers
Offer access to a bundle of web properties owned by publisher
Facilitate single sign-on (SSO) authentication to other content and apps
Reduce friction for future paid signups
Offer premium experiences such as ad-lite or ad-free
Support publisher strategies to manage copyright access control
Achieve the maximum average revenue per user (ARPU)
What is the difference between a registration wall and a paywall?
Paywalls require some form of payment for access; registration walls are free.
Paywalls typically tie permissions to the browser cookie, whereas registration walls set up account access across devices, websites, and apps.
Both paywalls and regwalls can manage access to content, and both require users to create and use a login.
Paid Subscription vs Free Registration
A paywall offers one or more options for offering paid content subscriptions, often offering ongoing monthly payments or a discount price for an annual subscription. A registration wall is not tied to any payment requirement or process.
Regwalls offer free access, with an implied user benefit greater personalization of their online experience. Accenture reports that 79% of people are willing to exchange data for a more personalized experience; building up first-party data is key.
Cookies vs User Accounts
Most metered paywalls are dependent on browser cookies to limit access to more than the metered limit of free articles. They need to do this so the search engines can have access to view and index their content, but this also weakens their content security. Metered paywalls, the most common type, can be overcome by clearing cookies, using Chrome's incognito mode, or other fairly simple work-arounds. A Google spokesperson has even recommended publishers use visitor registration to overcome the paywall workarounds.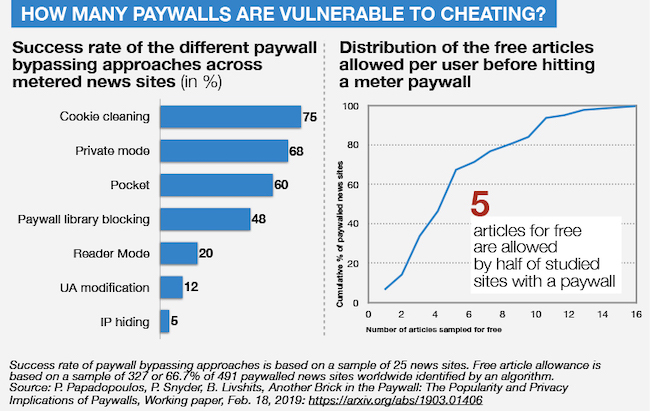 Registration walls can quickly set up an account specific to the user identity (often an email address), rather than tied to a browser or device. The user can use a social login, Google account, or create a unique login with the publisher. This login can be used regardless of device or browser, to gain access to free content, as well as other products or apps the publisher may wish to include. The account method allows a publisher to gather a more holistic view of the users behavior and visits.
Can registration walls drive revenue?
Yes. A regwall can be a first step to a more engaged user journey and consistent revenues. CTA's for registered users can drive email newsletter growth, social follows, paid subscription offers, and premium offers. Tying together a user's mobile and desktop behaviors can lead to insights, and higher conversion rates. The conversion rate of registered users can be 10x better than that of anonymous visitors.
A registration wall will quickly identify a publisher's most loyal and engaged visitors. These super users are much more likely to convert to long term subscribers. Forbes CEO Mark Howard stated they were using data from their registration wall to support efforts to diversify revenues. " This is the tip of the iceberg of supporting products that are not ad-supported," Howard suggested.
Best practices for registration walls
Make it obvious that signup is free; no payment methods required at all
Build a frictionless signup process with user options, i.e. social login, Google account, or personal email.
Promote the benefits of registration

Fortune tells registrants that the information can be used to provide a better experience. (a promise they should commit to fulfilling)

Offer a perk, a value exchange, for registration.

Examples may include premium content access for a time, engaging email newsletter, sweepstakes entries.

Test for language, visual components, and timing. Monitor conversion rates.
Develop a visitor-centric focus across teams to promote long term sustainable relationships and revenue. Leverage a visitor relationship management system that provides a holistic view, with multi-channel tools to manage revenue diversification.
To effectively implement a regwall, publishers will need the ability to:
create and deliver registration forms
store registration data in a scalable database
ensure data security in transit and resting
provide users access to their data, and help with lost passwords
provide a method to view and leverage the data collected
Once the regwall is set up, publishers can leverage the account information to grow newsletter marketing, offer paid subscriptions, or promote other products and properties.
Michael Yeon
VP Marketing, Admiral
By Admiral
Admiral helps digital publishers grow visitor relationships via adblock recovery, per-site subscriptions, multi-site subscriptions, email subscriptions, social subscriptions, privacy consent and more, powered by Admiral's one-tag, one-vendor, one visitor experience Visitor Relationship Management (VRM) platform.