Have you ever wondered how many of your readers could be considered loyal? Some people guess as much as 20 or 30 percent. But the question that follows immediately is: what actually is loyalty? Can you even measure it?
Being the data-junkies that we are, we dove into this intriguing subject and came up with some interesting numbers. And oh, while we were at it, we decided to rewrite the definition of loyalty.
What the heck is loyalty anyway?
Many publishers are keen on 'loyalty', because for them it equals 'paying customers'. In other words, loyal readers are returning visitors. Others have measured loyalty by combining frequency of site visits with things like recency. We feel that these are over-simplifications. It's impossible to distill complex human behaviour this way: it's too shallow and not accurate enough.
So, how do you measure loyalty? Well, after years of analysing reader loyalty we took a different approach. Our starting point: loyalty is human behaviour. It can't be evaluated on the level of a web browser event. We define loyal readers as 'habitually highly engaged readers'. This goes way above recency and frequency. It's richer and more accurate than simple metrics.
The loyal reader in numbers
Now that we have our definition straight, let's find out how much publishers can benefit from their loyal readers. For this data study we compared loyal readers' data to non-loyal readers' data. The dataset is based on 10 different publications within our network, taking into account that they have different business models and come from different parts of the world. The data was collected in May 2019. Here's what we found:
On average, a media outlet has only 3.8 percent loyal readers
They read five times more content in a single month then non-loyal readers
They come to your website almost four times more often in a single month
Loyal readers consume almost 29 percent more articles within a single session
Loyal audiences read 14.6 percent more text within a single article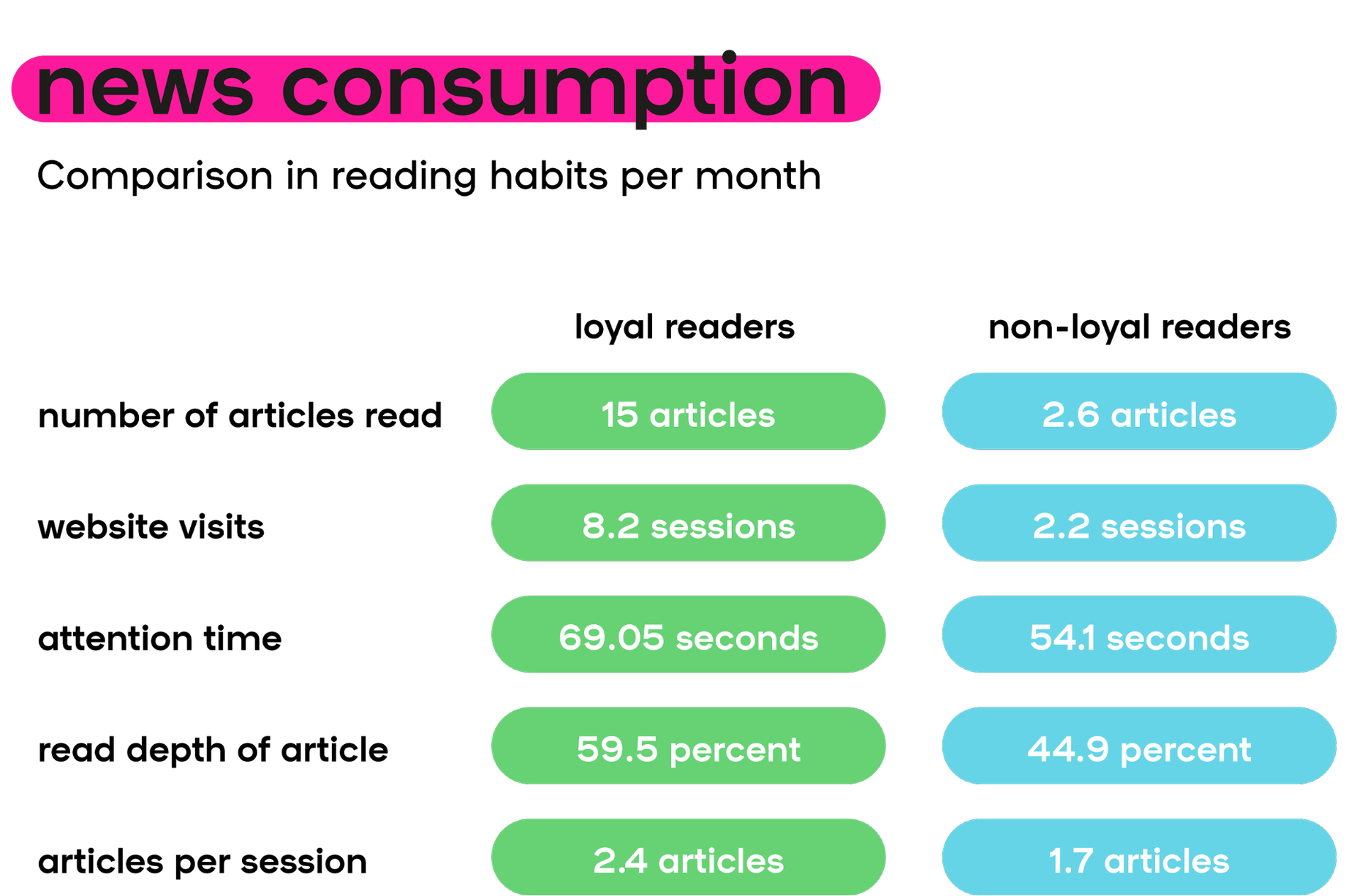 Loyal readers consume more content, read deeper, and visit more often
If only 3.8 percent of your readers are loyal, does loyalty even make a difference? Is it something you should focus on? We think you should, because according to our study, those 3.8 percent generated 16.2 percent of traffic. That's exactly why loyal readers matter: they read more than five times more content than your other visitors. They are the so-called 'super readers', a core audience for any media outlet.
This all tells us something about volume, but what about engagement? In a previous study about reader engagement levels between subscribers and non-subscribers we found that subscribers were 34.5 percent more engaged. But the thing is, with our approach to loyalty, not all subscribers have to be your loyal readers, and with different kinds of paywalls, there could be a lot of loyal readers among your non-subscribers.
In our view these loyal readers should remain firmly in any publisher's focus, whether or not they've hit that 'subscribe' button. They provide constant traffic and obviously much higher levels of reader engagement. And more revenue!
How? Well, because your loyal readers are more likely to become your subscribers and a trustworthy target group for advertisers. And even more crucial than that, your loyal readers are more likely to stay.
by Milos Stanic
Republished with kind permission of smartocto, the world's most actionable editorial analytics system offering a bird's-eye view on The Story Life Cycle©.