Next week the French Riviera hosts Cannes LIONS 2022, the international festival of creativity widely considered to be the largest worldwide gathering of the advertising and creative comms industry with upwards of 15,000 attendees from 90 countries.
It's a welcome return for an event that was canceled entirely in 2020, and only returned in digital format in 2021. However, with economic tailwinds (or even hurricanes) approaching, alongside a pandemic fatigued, burnt-out workforce, some are questioning whether the glitz of the French Riviera is an entirely suitable destination for 2022, especially on a continent with a war playing out further East.
Digiday, talking to a number of industry execs, admits as much saying that "things will be tempered this year", aptly summed up by Deloitte Digital's Leslie Sims who says that, "2022 will likely have two vibes happening – celebration since it is the first time back in-person in two years, and yet also a more reserved tone given the complicated issues the world is facing."
Overall, the tenor is going to be happy and grateful but it's probably going to be a little bit tempered with a real acknowledgement of the fact that it's challenging times right now.

Jenny Rooney, Managing Director and Co-Founder, Black Glass CMO House consultancy speaking to Digiday
Don't underestimate the importance of events
If there is one thing that last week's FIPP World Media Congress taught us, it's the importance of in-person events for networking, learning, and connecting.
Long ago one of my mentors told me that he doesn't feel he needs to know the answer to all questions and problems, but rather the skill to find the person who does know the answer. One way you do that is by networking.

Bo Sacks, CEO, Precision Media Group
Indeed, with WNIP having just returned from Lisbon for the FIPP World Media Congress, never has the importance of in-person events for networking, learning, and connecting ever been so apparent. Brian Morrissey admitted as much in his latest Substack oeuvre entitled, "Why Events Still Matter".
At the FIPP World Congress this week, I gave a talk about a more human future for publishing. Events, both in-person and virtual, are an ideal third component of a primary-engagement model along with newsletters and podcasts.

Brian Morrissey, The Rebooting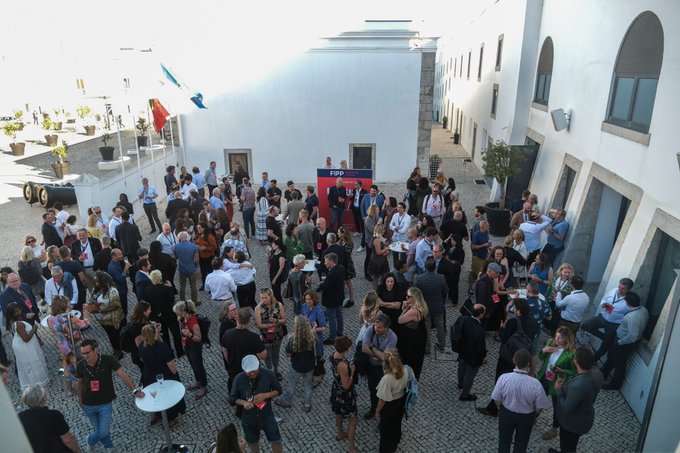 Peter Houston, Co-founder of Media Voices who also attended FIPP, agrees, commenting, "There's a real-world serendipity at in-person events that just doesn't exist anywhere else in media, both in terms of the speakers you choose to listen to and who you end up stood next to at the coffee break. Face-to-face events deliver."
Cannes has always been about relationship building.

Josh Golden, CMO, Quad speaking to Digiday
Advertising remains a key publisher channel
Although Cannes LIONS is primarily an advertising and creative event, it still remains highly relevant for publishers. The latest Digital Publishers' Revenue Index (DPRI) from the Association of Online Publishers (AOP) and Deloitte revealed display advertising held its position as the largest category by revenue for digital publishers; with income reaching £66M in Q1 2022, an increase of 24% against Q1 2021.
The AOP/Deloitte DPRI followed hot on the heels of IAB Europe AdEx 2021 Benchmark Study which revealed double-digit digital advertising growth across all European markets. Overall, in 2021, digital advertising grew 30.5% to €92bn.
In short, for publishers, advertising remains a hugely important revenue channel even for subscriptions' poster child, the New York Times.
Advertising remains a key revenue driver for the New York Times but we rely on 'Fewer, Bigger, Better' – which means displaying fewer ads, placed in better positions, in larger formats. We even created our own ad units in-house that are designed to perform better within the NYT's page framework.

Tom Armstrong, VP of Global Advertising, New York Times
One topic very much off-the-radar at this year's conference is the topic of ad fraud, the ever-present elephant in the room for the media industry. Indeed, a recent report by the Association of National Advertisers (ANA) – recently rescinded (such is the controversy it generated) – outlines how ad fraud is now in the region of $120 billion.
We throw around numbers without really understanding the context. It's difficult to understand what numbers mean. Here's some context. If the ANA's estimate of ad fraud is correct, ad fraud is a bigger business than…Coca-Cola, McDonald's, Pepsico, Nike…wrap your head around that.

Bob Hoffman, Ad Contrarian newsletter
Cannes LIONS Highlights
Whilst the event will be somewhat tempered down this year, the program is packed with speaker sessions, product launches, demos, and of course, beach and yacht parties. Seasoned Cannes veterans implore attendees to dial down expectations of what they'll attend and just go with the flow.
Cannes is unlike any event you'll have been to before. Yes, there will be meetings, but some might not happen (much more likely at Cannes), yet this is where you'll meet people you didn't expect to meet and some of these meetings can be very valuable. Don't get #FOMO.

Andy Evans, Founder, Digital Founders
The full speaker program can be viewed here, and whilst many of the events are aimed squarely at the advertising fraternity, below are a few handpicked highlights for publishers:
Monday 20th June, 10.30am: David Rubin, Chief Marketing Officer, New York Times 'CMOs in the spotlight'. Terrace Stage.
Monday 20th June, 4pm: AXIOS/ZEFR/SNAP session 'the one big thing' [The Baron Trenck Yacht, Le Vieux Port De Cannes, Jetée Albert Edouard]
Tuesday 21st June, 3pm: Pandu Nayak, Google 're-imagining search, anyway, anywhere' [Lumiere Theatre, Palais 1]
Wednesday 22nd June, 3.30pm: Angie Gifford, META 'The changemakers' with Euronews [Terrace Stage, The Terrace]
Future Gazers: this future-focused series includes VR and synthetic AI, the metaverse, Web3, livestreaming, etc. Terrace stage daily.
Brands including Meta, TikTok, Pinterest and Amazon are hosting their own activations this year. Amazon, as one example, has created a 2,500 sqm harbour and will be hosting numerous events including 'Words Mean Things: Deconstructing the language of storytelling' with best-selling author Roxane Gay on Tuesday 21st June at 10.30am, exploring the different ways publishers can tell compelling stories.
Fresh from acquiring Splash News, Shutterstock is underpinning its attempt to become the world's largest 3D, creative, and production marketplace by hosting a series of events at Croisette Corner Square, Cannes. Standout presentations include how advertisers are using 3D technologies today, and how advertisers and publishers can prepare for the Metaverse, and the 3D future.
What's New in Publishing will be attending many of the events listed above. If you can't find us and would like to say hello, please reach out to us using our Twitter (@wnip).
See you there!