There's hope yet for local news. After a decade of decline, with legacy organisations dwindling in size, influence and revenue, small news outlets are popping up everywhere attempting to build sustainable models whilst also addressing the information needs of local populations.
Four North American participants from a recent Google News Initiative Startups Lab featured in a special podcast talking about what business models they had chosen to use. Given the public service nature of local news, all had chosen to make the content freely accessible. Instead, they had turned to memberships, contributions, events, advertising, and even merchandise in order to forge a path to sustainability.
The Mendocino Voice
The Mendocino Voice is a rural news outlet founded in 2016 to provide breaking and on-the-ground forest fire coverage to Mendocino residents during fire season. They have since expanded their coverage to more in-depth county issues, as well as communicating information to Spanish-speaking residents.
Founders Kate Maxwell and Adrian Fernandez Baumann chose a mixed revenue model for the publication. They are quite firm that none of the content will be paywalled – something that is especially important given the urgent nature of some of their coverage. But they do have a membership programme where readers can choose to support the organisation.
"At this point, we have about 1000 members in a county of maybe 90,000 people who give us recurring donations just to support our work," Maxwell explained.
They don't rely on just memberships though. The outlet is supported by a "healthy mix" of advertising and sponsorships. "We limit our advertising to local businesses who are purchasing by the week," said Maxwell. "This ensures that we're really providing a way for local businesses to reach a dedicated local audience who values and trusts our local news and also trusts supporting local businesses, of which we are one."
Focusing on local advertising in this way makes the overall advertising strategy more sustainable. It's a way for local businesses to support the work of the Mendocino Voice, but also for readers to discover local services. "We can plan to grow and scale sustainably without needing to rely on large national advertisers or trying to drive clicks for reasons that aren't actually valuable to our local audience," Maxwell pointed out.
Santa Cruz Local
In early 2019, Kara Meyberg Guzman started a new local news site with fellow Santa Cruz Sentinel reporter Steven Baxter. The new rival, Santa Cruz Local, doubles down on local coverage in the area, filling a number of big gaps including city council reporting, Spanish language information, and a podcast.
Like the Mendocino Voice, having the content available for free is a cornerstone of Santa Cruz Local's public service mission. They have also chosen a membership offering to allow people to support the publication, with different levels starting at $9 a month.
"We cobbled together best practices of what we were seeing in our peer organisations around the country," explained Guzman. "There's this wave of hundreds of local new startups, similar to Santa Cruz Local, and many of them do have membership models. We looked at research coming out from the Membership Puzzle Project, at how it's being done elsewhere, and imitated what we thought was working well."
Santa Cruz Local has grant funding as well as memberships. As well as the Google News Initiative, they have small grants from the Facebook Journalism Project and the Solutions Journalism Network, among others. They are also supported by major gifts from donors.
"I think our model will always include a mix of memberships, grants, and philanthropic gifts from individual donors," Guzman said."Right now, our monthly recurring revenue, the revenue that we can count on each month, which all comes from memberships, that covers about 60% of our staff costs."
"We want to get to a point where our monthly recurring revenue covers our monthly recurring expenses, which is basically our payroll. So essentially doubling, really growing our membership revenue. We have about 700 members right now. Our next milestone is when we can double the amount of revenue coming from that."
Borderless
Nissa Rhee started Borderless with two other journalists, Alex V. Hernandez and Sarah Conway, as a rapid response media project back in February 2017, around the time of the Muslim travel ban. They could see much of the media response was harmful, and in some cases, brazenly racist. With growing support from Chicagoans and a demand for better local reporting on immigration, Borderless Magazine was officially launched in October 2019.
"When we decided to make this an actual business, we definitely felt strongly that it should be a nonprofit, mostly because of our strong mission," Rhee emphasised. They began with a Kickstarter as they wanted to be funded by the people they were covering in their community. Now, like the other local news start-ups we spoke to, they are free to read.
"Borderless is committed to not having a paywall and having this information accessible," said Rhee. "That's part of the reason we started, is the lack of accessibility to some of this information, and so that remains important to us."
As well as a membership programme, Borderless is supported by grants, foundations, and philanthropic donations. They have also expanded into training for other news organisations.
"We do some consulting work for other news outlets who really want to bring up their game as far as reporting on immigration, doing coverage in Spanish or other languages than English, and really pushing themselves to the next level in thinking about these issues," said Rhee.
In addition, Borderless has a merchandise store, where readers can buy Borderless sweatshirts, mugs and more. The design has been created by an undocumented artist living in Chicago.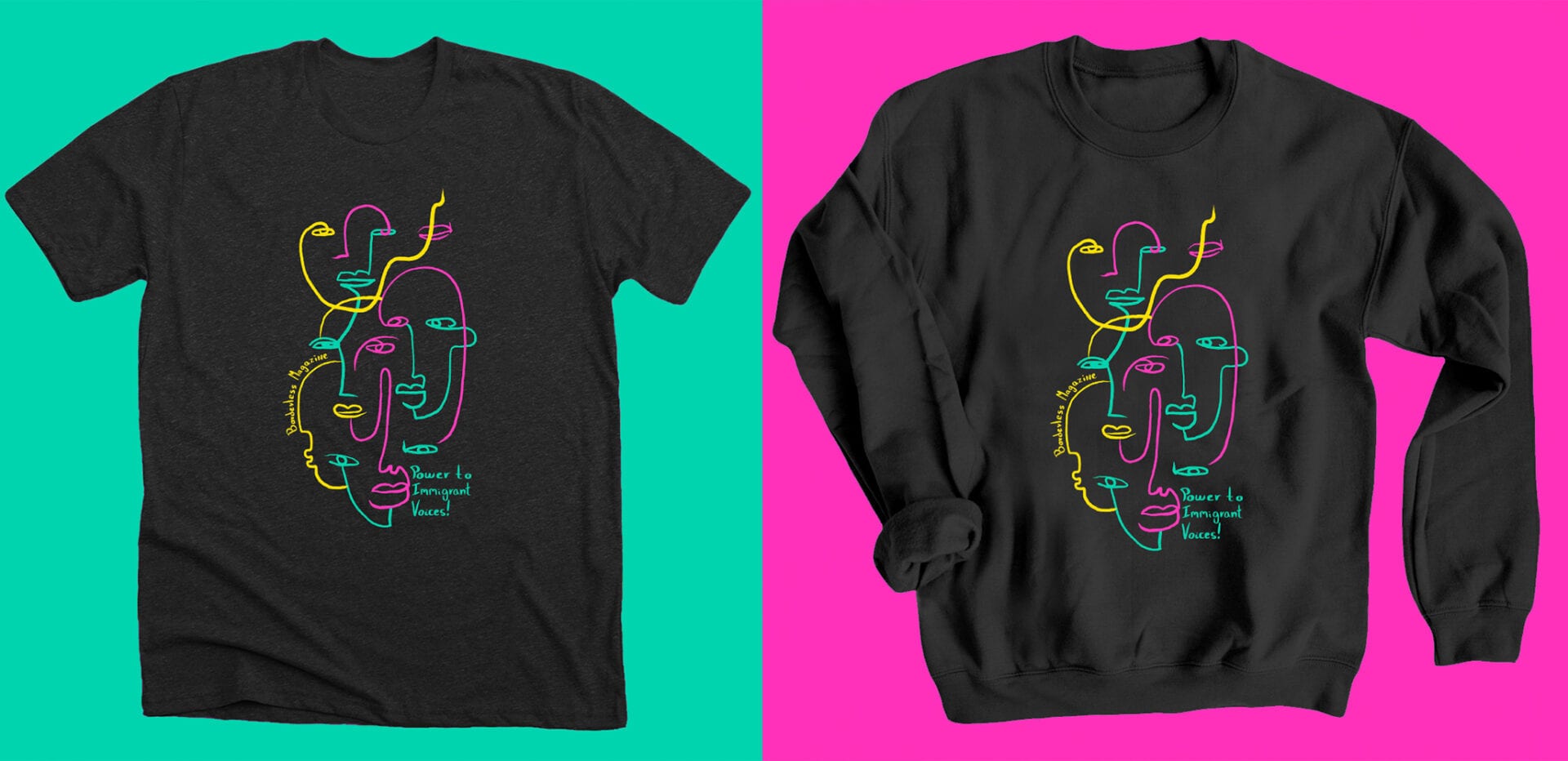 "We're trying to really experiment," Rhee added. "I don't think there's going to be one model that will work for everyone because our audiences are different. Borderless Magazine's audience is very young, most of our readers are under the age of 40. They're very racially, ethnically, linguistically diverse. So you're going to have a different model for us than in another newsroom."
"But I do have a lot of faith in this mixed revenue model. Hopefully, it's just a matter of finding the balance of where can we keep pulling in different money."
At the moment, the start-up costs around $275,000 annually to run. This funds three full-time staff members, two part-timers, and freelancers. It is their talent that makes all the difference at the magazine.
"What I hear from a lot from people is that we look like we are bigger, or have more money than we do," Rhee said. "But the reason we're able to do so much is because our staff is amazing. Everyone is speaking other languages, we don't have to hire translators to, for instance, translate interviews when we're out because our staff comes from these communities and are able to do that themselves."
San Jose Spotlight
Another publication looking to better serve ethnic communities in their local area is the San Jose Spotlight. The nonprofit news organisation is dedicated to independent political and business reporting, but also has Spanish and Vietnamese-speaking reporters in order to broaden the coverage.
Husband-wife duo Ramona Giwargis and Josh Barousse launched it in 2019, and managed to continue growing it through the pandemic whilst also juggling a new baby. Again although the coverage is free, they have seen success with a membership and contribution model.
"We did lose some donations at the start of the pandemic," Giwargis admitted. "But I will say in many ways, the pandemic was also good for local news, because we saw a huge spike in readership, people turning to San Jose Spotlight, people discovering us for the first time because we were providing life-saving information: how to get a test, where to find a meal, what are the symptoms of COVID, how do I get a vaccine, when is it my turn?"
"In fact, at the end of 2020, we nearly doubled our revenue from 2019 to 2020," Barousse added. "Folks were just so unaware of what was going on, they were turning to us to give them the information they needed to navigate their way through the pandemic. And in turn, they wanted to keep this journalism going. So they all pitched in."
San Jose Spotlight relies on five different revenue streams. They have income from corporate sponsorships and major gifts, as well as the monthly and annual memberships available to readers. Now the publication is in its third year, they are also having more success with foundation grants. "A lot of foundations are more aware of our work, and they trust us and want us to be around," said Barousse.
Event sponsorships are an additional stream. "We hold educational forums throughout the course of the year on important topics that face the local community, and we're able to get sponsors to sponsor these events," Barousse explained. "And then fifth is the advertising in our daily newsletter, in our weekly podcast. That's a growing revenue stream as well."
Outlook – a pivotal few years for local news
Whether it's one of these four publications, or a more well-known outlet that figures out a sustainable business model remains to be seen. But there are a number of common factors that tie together local news publishers that look like they could work.
The publishers making inroads typically have lean operations. This is where the legacy publishers in the space struggle. They are often hampered by large bills for operations, from costly office space to printing and distribution contracts, which means reporters are easy targets for the chopping block when cuts need to be made.
By contrast, start-ups are free from many of these legacy costs. They can scale up faster as the business demands evolve, and some are still based from their homes. Even more established publishers like Axios and 6AM City are going into local news with a Minimum Viable Product (MVP) approach, hiring just a single reporter to send out a newsletter to cover a city.
Of course, there are challenges with this approach. Resourcing is difficult, and many of the founders feel they are barely scratching the surface of the coverage needed in cities and counties.
But by far the biggest barrier for these start-ups is getting enough investment in the first few years to survive. The Google News Initiative collaborated on a landscape report in 2020 called Project Oasis studying over 700 digital-native news organisations across North America. One of the findings was that two-thirds of digital-native news outlets were bootstrapped – bankrolled by their founders – for a median amount of $10,000.
"The funding pipeline for local news is severely strained in North America," Google News Initiative Startups Program Lead Conor Crowley said. "And North America is probably the best funding pipeline out there in terms of the amount of philanthropic support that's on offer. In other regions, the funding pipeline is non-existent."
But it's a start. Whatever the obstacles, at present, these start-ups are much closer to what the local populations are demanding from local news coverage than the legacy publishers.
As venture capitalists pick the last bits of meat off the bones of the once-great local news giants, the opportunities for these fledgling businesses to fill the gap will never be greater. It will be some years yet before we see whether the market can indeed sustain local news. The extent to which these publications will succeed will depend on their ability to balance both audience and business requirements.
From what we've seen so far, we are optimistic that there will be multiple paths forward.
---
Learn more about each of the start-ups, their approaches, the challenges they've faced and their plans for the future in the Media Voices Podcast Special: The start-ups saving local news in the U.S.