An update to Google Images has created a new way for publishers to drive traffic, using pictures.
While we know that Google has over 90% Search Engine market share worldwide, the breakdown of which Google properties drive this search volume are not as easily available.
One of the best insights on this breakdown that we have is from an older report by the search company Moz, The State of Searcher Behavior. It reveals that almost 27% of web searches are conducted on Google Images.
This particular data point even surprised the author, Rand Fishkin—the CEO & co-founder of Moz—who said, "If the Google Images data shocks you, you're not alone. I was blown away by the popularity of image search." 
Given that Google Images drives half the search volume as compared to Google.com, the company is now taking steps to make visual content more useful in search.
Starting this month, Google has introduced a new feature that makes it easy to find quick facts about what users search on Google Images.
"When you search for an image on mobile in the U.S., you might see information from the Knowledge Graph related to the result," says Angela Wu, Software Engineer, Google Search.
"That information would include people, places or things related to the image from the Knowledge Graph's database of billions of facts, helping you explore the topic more."
The added context is likely to make images more appealing to click on. It's almost like Google added meta descriptions to image search results.

Matt Southern, Search Engine Journal
Google's The Keyword blog has more details on how this works:
For example, let's say you're searching for beautiful state parks to visit nearby. You want to swim during your visit, so you tap on a picture of a park with a river.
Beneath the photo you might see related topics, such as the name of the river, or which city the park is in. If you tap a specific topic, it will expand and show you a short description of the person, place or thing it references, along with a link to learn more and other related topics for you to explore.
With this information, you can better understand the image you're viewing and whether the web page is relevant to your search.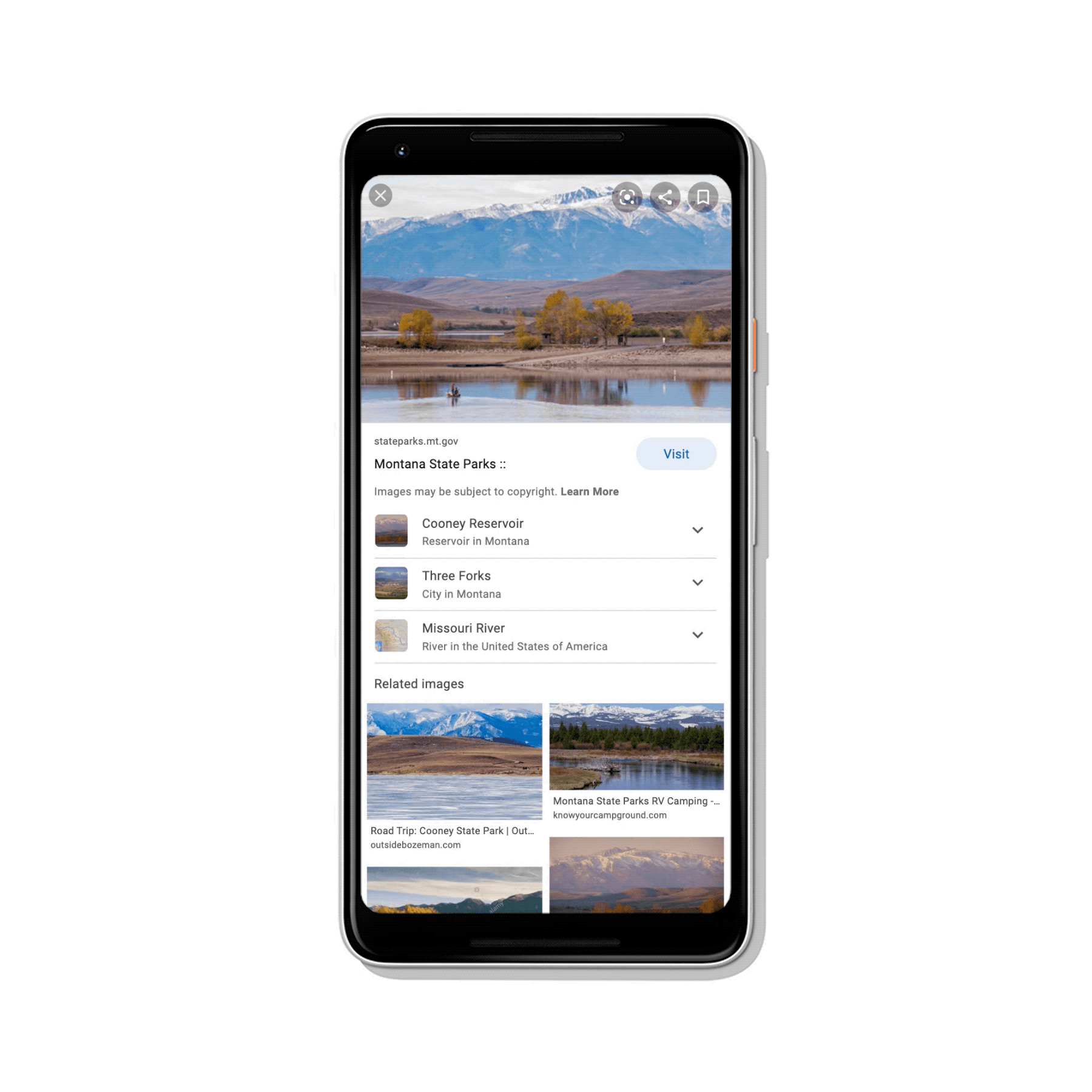 Or perhaps you're looking for information about a famous architect's work to inspire a home renovation or art project. You might come across this article about the architect winning an award and be able to easily learn more about the woman who is the namesake of that prize.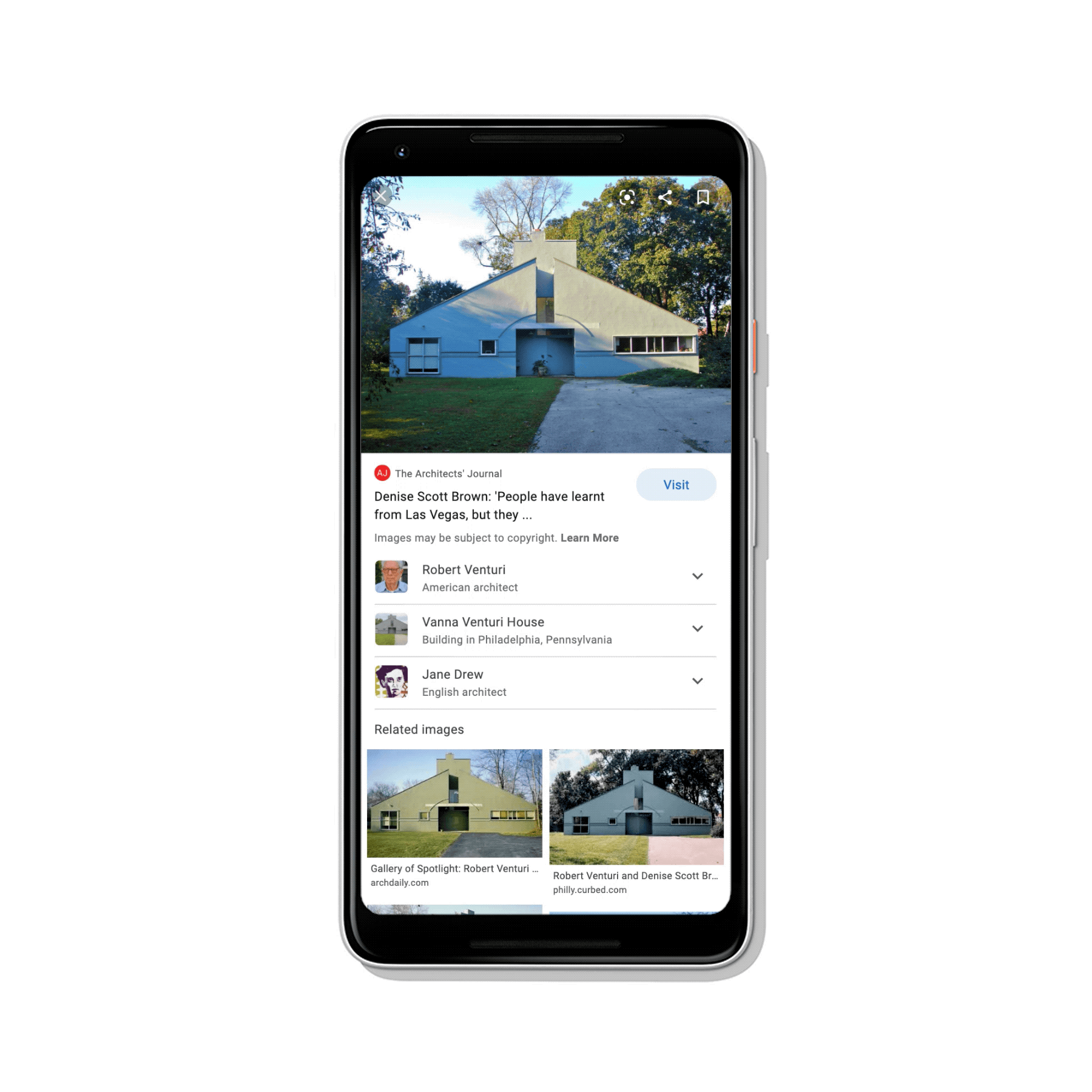 "Google is giving searchers more information about images that could potentially drive more clicks to the image source," says Matt Southern, lead news writer at Search Engine Journal. "Perhaps the best part of this update is it requires no action on the part of site owners. Google will enhance your image search snippets all on its own."
According to the company, to generate these links to relevant Knowledge Graph entities, the search engine takes what it understands about the image through deep learning—which evaluates an image's visual and text signals—and combines it with Google's understanding of the text on the image's web page.
Google mentions publishers can also submit information to the Knowledge Graph by claiming a knowledge panel. It says, "We also receive factual information directly from content owners in various ways, including from those who suggest changes to knowledge panels they've claimed."
This information helps Google to determine the most likely people, places or things relevant to a particular image. It matches this with existing topics in the Knowledge Graph, and then surfaces them in Google Images when it's confident of having found a match.
'It's low-hanging fruit for those who have the opportunity to claim a knowledge panel and haven't yet. Claiming your business's knowledge panel is a must-do if you haven't done so already," Matt notes.
"That's especially true if yours is the sort of business that would have photos of it published on the web. Then your Knowledge Graph information, with a link, could potentially be surfaced underneath those images."
This feature will start to appear on some images of people, places and things in Google Images and will expand to more images, languages and surfaces over time.
This is how publishers can claim and update their Google knowledge panels. 
Given that 27% of web searches begin on Google Images, this update is something publishers should definitely take advantage of, to get a leg up on the competition and drive more traffic to their online properties.