Google is updating search results with the Full Coverage feature; it was previously exclusive to Google News
Google Search is now getting the Full Coverage feature for news results, which provides more context about stories, from multiple sources.
"We're now bringing Full Coverage to Search, making it easier for more people to explore all aspects of a story from a variety of perspectives," the search giant announced on The Keyword, Google's official blog.
"AI meets human intelligence"
The company first introduced the Full Coverage feature in 2018 as part of Google News, positioning it as "AI meets human intelligence". For the first time, it allowed users to see a comprehensive view of top news, local headlines, in-depth pieces, explainers, interviews and more on a developing news story. 
"The most important news stories are often complex and ever-evolving," says Itamar Snir, Product Manager, Google News, "with myriad threads and developments all happening at once. People are hungry for context that helps them break down and understand these complicated stories from multiple perspectives."
Google's AI is capable of understanding the people, places, and things involved in a story and how they relate to each other. Full Coverage organizes articles into storylines as the news event unfolds. 

There are no human editors involved in curating the stories and the results included in the Full Coverage section are not personalized. Everyone sees the same storyline.

Matt Southern, Lead News Writer at Search Engine Journal
"An unpersonalized view"
For publishers, this can be an effective antidote to the filter bubbles and echo chambers that reduce readers' exposure to diverse ideas. Full Coverage can make it more likely that people will discover unfamiliar information sources, and this may offset the filter bubble effects.
Having a productive conversation or debate requires everyone to have access to the same information. That's why content in Full Coverage is the same for everyone—it's an unpersonalized view of events from a range of trusted news sources.

Trystan Upstill, Google News Engineering and Product Lead
Personalisation is often unhealthy as it creates bubbles that filter out the news and opinions we disagree with, with the consequence that many now exist in information silos where they don't see opposing information in the first place.
"An unpersonalized view" may just be what is needed right now, exposing more readers to a broader range of publishers and viewpoints.
Exploring different angles of a news story
While searching for information on a timely topic, users will see a carousel of articles at the top of the Search results highlighting relevant news. Now for big, developing news stories, they can tap into a Full Coverage page after scrolling to the end of the top stories carousel or by selecting "More news on…" right below the carousel.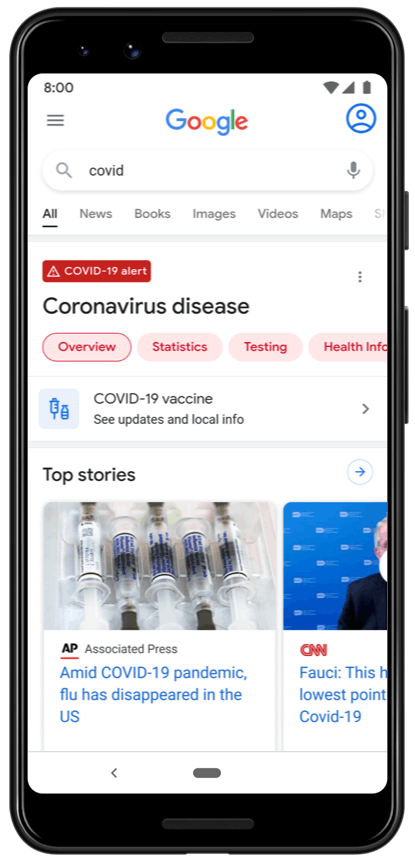 With this launch, we're introducing new technology that is able to detect long-running news stories that span many days, like the Super Bowl, to many weeks or months like the COVID-19 pandemic. We then organize the Full Coverage page to help people easily find top news along with additional content like explainers and local coverage that are helpful to understanding these complex stories.

Itamar Snir, Product Manager, Google News
Full Coverage in Search is available now on mobile devices, beginning with English in the U.S. and rolling out to more languages and locations in the coming months.