We worry ocassionally that we focus too much on a small circle of success stories in our industry. Yes, even we get tired talking about the latest New York Times digital subscription numbers. But one business I don't think we'll ever get tired talking about is Future Publishing.
If you ever find yourself wondering why, this graph says it all. From losses of £30 million in 2014 to pre-tax profits for 2020 – 2021 of over £100 million, the business has doubled its market capitalisation to more than £4 billion in 12 months.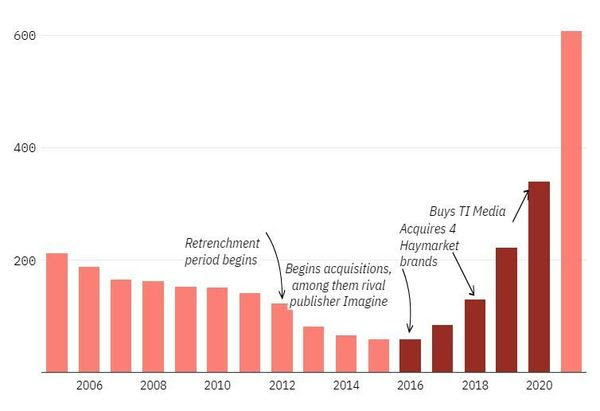 This piece in Press Gazette is a reminder of the incredible rollercoaster ride Future has been on. From its first forays into digital transformation in 2007 through 2014's retrenchments and the recent acquisition binge, it's a brilliantly inspiring story and one in which we regularly find some basis for optimism.
Here's another chart that should bring a smile. MediaPost is reporting three major upward forecast revisions for the global ad markets. Magna, Group M and Zenith are predicting an average 4% increase on forecasts made earlier in the year and now forecast worldwide ad spending to be up 17% for 2021. Magna EVP Vincent Letang said the record growth was down to a "once in a lifetime planetary realignment." Can't wait for the movie 🍿 🍿🍿
I love my print magazines more than most, but this relaunch is truly bonkers. Mr Magazine has re-published a page from Bitcoin magazine explaining why print is right for the crypto title: "With the print magazine, all the worlds most important stories on bitcoin can be held in your hand". Just don't rely on it for trading tips, the market will have moved 25 points up and down half-a-dozen times by the time your copy lands.
This special episode of Media Voices includes the audio of our launch presentation for the Media Moments 2021 report. Chris, Peter and Esther each outline which media moment of the year they found interesting, before being joined by an expert panel of media analysts to dissect the year.
---
This content originally appeared in The Media Roundup, a daily newsletter from Media Voices. Subscribe here: